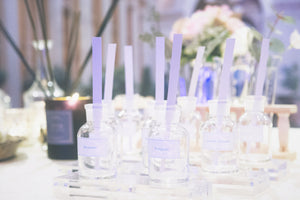 with custom-blended perfume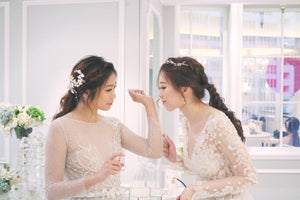 Perfume-themed Decoration
Simple, stunning and elegant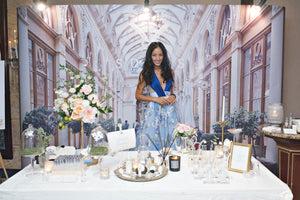 Brand New Wedding Experience

2009
Candy Corner
2010
Photobooth

|
2015
Perfume Bar
- Perfume Bar -
We offer a bespoke, innovative and interactive perfume blending experience where guests can play with a wide range of scents to concoct their own bottle of perfume. This is not only a fun way to give out wedding favors but also an eye-catching decoration for your reception area.
#1 Decoration
Our signature design is a modern vintage look with a combination of curated candles, glassware and silverware placements with a touch of gold and flower bouquets.
#2 Entertainment
While waiting for the ceremony, keep all of your loved ones entertained and amazed with our bespoke and interactive perfume blending experience.
#3 Wedding Favor
Scents are chosen and crafted by the bride and groom themselves. Each bottle of perfume tells a true love story and stands for something truly meaningful.
"Two are better than one"
1 + 1 Blending Experience
A concept inspired by the beautiful Bible - Ecclesiastes 4:9.
1+1 Blending experience incorporates both the wedding couple's own creation together with a touch of each guest's personal element. Each guest walk away not only with a gift but a truly meaningful and unique experience which they will happily share.
sovos perfumery
We design one-of-a-kind fragrance that portraits emotions, preserves memories and recreates nostalgia that is all so obscure but vivid.
Working directly with French artisan perfumers, SOVOS adopts a vintage distillation technique from 17th century in Grasse to extract hundreds of precious botanical species curated from all over the world.
From our most valuable customers,
I wanted to gift something meaningful and memorable for my guests, but I don't bake so it was tough for me... until we came up with this idea and it was perfect as it involves both me and my fiance's creation in the process, and we really wanted them to remember the experience too.

Janet Ng
I'd never imagined that my guests would actually come to me and tell me how much they loved my perfume selections!

Samantha Young
Q&A
- Souvenir -
Q : How does the participation rate differs when comparing Perfume Bar vs Candy Corner vs Photo Booth ?
Q : What's the percentage of guests to prepare ? Do you charge by consumption or pre-fixed ?
Q : Can I personalize the bottle ?
(E.g. initials, engraving, tassels, packaging)
- Guest -
Q : How's the participation rate of gentleman, kids and the elderly ? I'm a bit worried for the elderly.
Q : How do you handle over 200 guests ?
Q : Is perfume bar suitable for small wedding?
Contact our wedding planner!
- Venue -
Q : You charge the same for overseas ? For REAL ?!
Q : Do you do bundled decoration service too for the
venue ? I want something minimal but elegant.